Visitors have the ability to use Smart Site Plan's Open Data freely, without an account. This is Experience Smart Site Plan. Experience allows users to find, view, and share publically available datasets using our Open Data engine.
Search
Gives users the ability to find data based on their keywords. If the categories do not have the term you are interested in, use Search. More advanced functionality is available through the use of double quotes.
Select the bar highlighted in yellow.
Type in your keyword and click Magnifying icon or press enter.
In order to find the exact search term, use double quotes and repeat step 2.
Trending
Serve as guidance in finding datasets. By clicking one of these bubbles, the user can find its related information in their screen extents. Furthermore, our trending keywords are uniquely tailored to grab surround data relevant to its name. Note: You can put any trending term in double quotes to see similar results.
Select a bubble of interest.
In this example, Imagery was selected.
Under the Trending card, a footer called View more exists. Clicking this will show all the trending terms available.
Location
Gives users the ability to go to a location of interest. Select the location input and type in the keyword. You will see a menu with the relative locations showing up. Pick any of them and you will be flown to that location.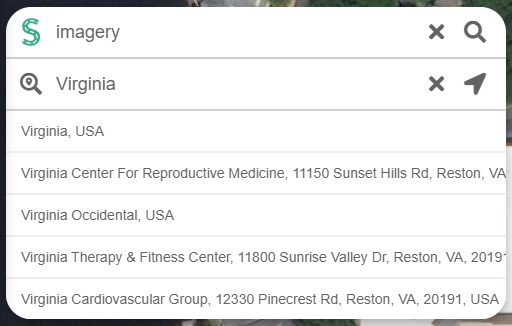 To go to your current location, click on the arrow to the right of location input.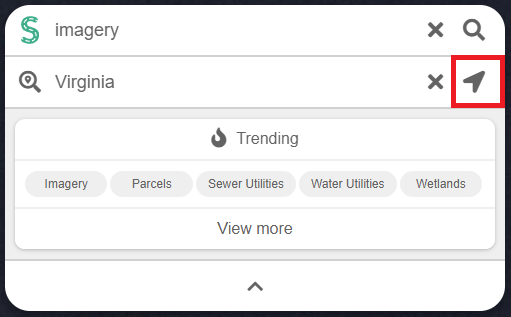 Shares
The share button is located at the bottom-right of the screen. Clicking this will create your unique share.
Each share comes with its unique link.
The footer contains additional options to use for the share.
We can guarantee that the shares will be active for at least 30 days. Due to not having infinite storage, we will delete shares after a certain time frame afterward. Subscribing to Smart Site Plan will remove this limitation and give you the ability to have custom titles, description, basemaps, layers, and more!
Restrictions
Experience has restrictions compared to its parent, Open Data. In order to have these restrictions removed, please subscribe to Smart Site Plan.
Using results
Click on a result you are interested in.
A card will show up at the top of the Open Data container. Here you can change the opacity, save the data, toggle it in HD, favorite it, and show its legend.
Once the header of this card does not have a green loading bar, the data on the map should be visible. Note: Some sources may not work due to internet issues or server issues. We do not have control over 3rd party data, which is what Open Data presents.
Clicking on this data will show you a popup with all its relevant information. Note: Some sources will not have information available. This is dependent on the 3rd party data.
Request for Removal
Users have the ability to request sources for removal. Once the removal request has been accepted, the URL that was submitted will not be available for use anymore in Smart Site Plan.
After finding the source that you would like to request for removal, click the Flag icon.
A popup will show up with the required information needed in order to request a URL for removal.

The URL is the source that will be requested for removal. If the request is accepted, this URL will be removed from Smart Site Plan.
Each request rquires an email of the submitter. This is used for referencing and potential contact if permitted.
Restriction level has two options. First is URL Only, which only removes the URL's value and nothing else. Second is Entire Domain, which removes the whole domain from Smart Site Plan. In this example, any URL that is part of the https://maps.ghd.com/argic/rest/services will be removed if the request is accepted.
Each request requires a Reason for removal field to be filled out. Please include an explanation for the removal of this data.

Once finished with filling out the request, click Submit.